Free Public Webinar: Myth-Busting Dietary Patterns & Practical Tips
There is a huge amount of confusion that reigns in the mind of the public about what a healthy balanced diet means.
We all want to feel better and add years to our life, and life to our years. Most of us get our dietary information from straplines in newspapers and magazines that tend to sensationalise diets, often emphasise superfoods, and one or two foods that will give us the miraculous elixir for feeling better and sadly often focusses on the aesthetic aspect.
In this free public talk, Mr Rajiv Bajekal, Consultant Spinal Surgeon and practicing qualified Lifestyle Medicine Physician, takes you on a deep dive of various popular dietary patterns and in an easy to digest lecture, exploring the science behind them. He will discuss industry influences on our food habits and why we cannot shake off our deep prejudices!
Human biochemistry is complex and needs to be made easy to understand. Once you understand the science, it is easy to adopt the healthiest dietary pattern. He will discuss the Keto diet, Paleo diet, Mediterranean diet, 5:2, veganism, and the plant-based diet amongst many. He will briefly discuss his own story and the reason he is now bringing this message to the public, and will advise you on how to make small, incremental, and rewarding changes to your diet.
If you feel ready to improve your health and want to feel better, join us for this insightful and useful talk to take home practical, actionable tips! 
If you are a healthcare practitioner, you are welcome to book on. However, please note that this course is targeted at the general public and will involve less clinical detail than our comprehensive 2-hour CPD courses.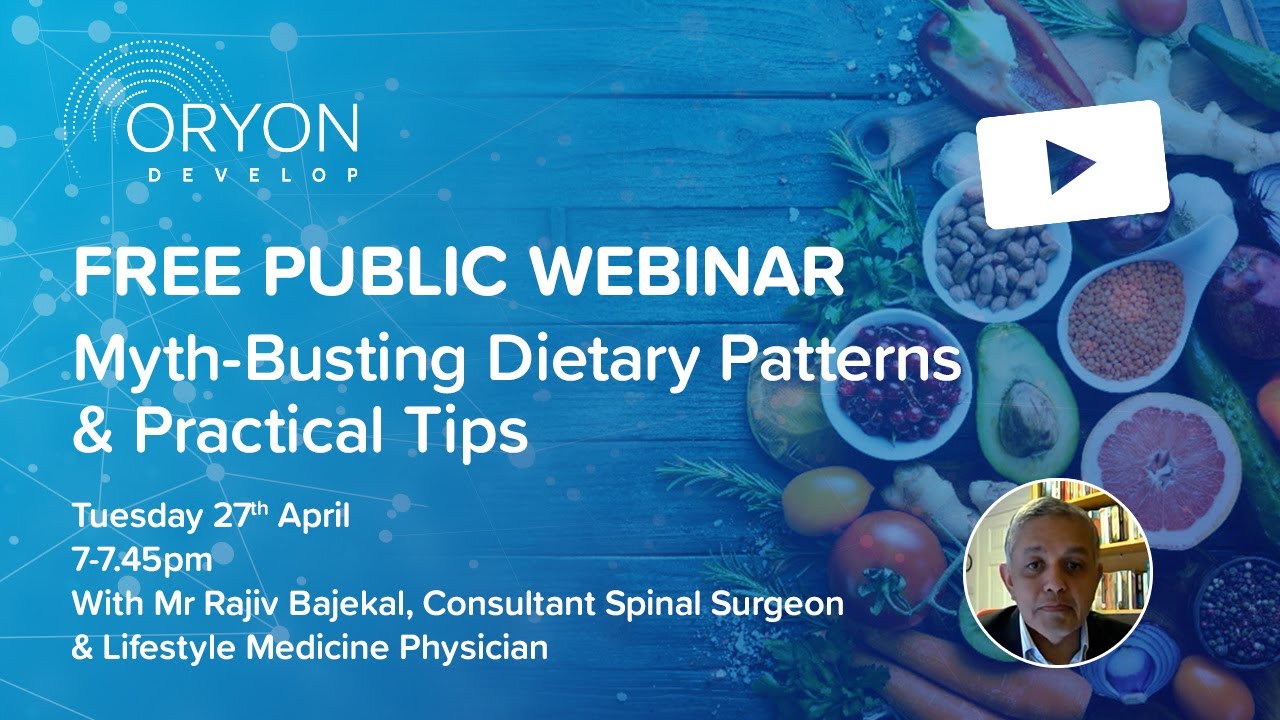 We will send you an email with instructions to register and gain access to the webinar 'room' 24 hours before, and a reminder 1 hour before the event.
What you'll learn:
Learn about how different diets can affect the body in different ways and take home practical, actionable tips to improve your own health through nutrition.
Different types of diets and dietary patterns
How has society and industry influenced us?
What small changes can we make?
Consultant Orthopaedic Spinal Surgeon | London
Mr Rajiv Bajekal is an experienced Orthopaedic Surgeon with an interest in spinal surgery and lifestyle medicine. He works with a group of like minded Orthopaedic Surgeons called Total Orthopaedics London who practice high quality Orthopaedics holistically and with the whole patient in mind. 
He was appointed Consultant Orthopaedic Surgeon in 1998 and has been working in London at the Royal Free London NHS foundation Trust since 2002. He has published widely and lectures Nationally and Internationally besides being a Senior examiner for the FRCS Orthopaedics. He is an active member of the Plant Based Health Professionals, UK and Total Orthopaedics London.
In 2016 he had some personal health problems and had put on a lot of weight with time in the UK. He and his wife researched diet and nutrition and he embarked on a way of living a healthier life with compassion and care for the environment. In the process, he lost 25 kg of weight, reversed his diabetes and found a new zest for helping patients live a healthier life.
He decided to study Lifestyle Medicine as a lot of the disorders affecting people nowadays are lifestyle related and he and his wife (Consultant Gynaecologist) both studied and passed the Diploma examination in Lifestyle Medicine conducted by the American board of lifestyle medicine. He and his wife Nitu are now certified lifestyle medicine practitioners with a Diploma from the International Board of Lifestyle Medicine - by far his proudest achievement.
Chronic health conditions cannot be managed purely by medication. Real change though must come from the patient. A lifestyle medicine practitioner is trained to give guidance, motivate, monitor change and assist the patient in a quest for better health. He and his wife now practice medicine hoslistically - looking at the causes and prevention of chronic illness while at the same time treating problems in their areas of specialism. They lecture on lifestyle medicine and prevention of long term ill health. Mr Bajekal has also written the module on Bone Health for the first UK plant based online nutrition course conducted by the University of Winchester.
Access to the webinar (via email), a 45 minute interactive talk, Q&A session and a recording of the talk (even if you can't make the live event).