At Oryon Develop we are delighted to launch our on-demand courses – offering you CPD at your convenience.
We've made over 40 courses available to purchase on-demand – for you to watch when you want. With courses ranging from sports injuries to gut health or mental health, you are sure to find a course relevant to you!
We pride ourselves on providing a higher quality experience than other event providers for an affordable price. Why not purchase one of our on-demand courses and learn something new in healthcare. There is no time-limit on your recording – so watch when you want.
To celebrate our launch we are offering 15% off on-demand course bookings, simply enter ONDEMAND15 at the checkout page. Offer ends Monday 15 March 2021 so make sure to get your CPD now!
And don't worry – we're still organising our well-known live courses – we're just adding another useful feature, to make sure we can offer everyone the chance to learn something new in healthcare.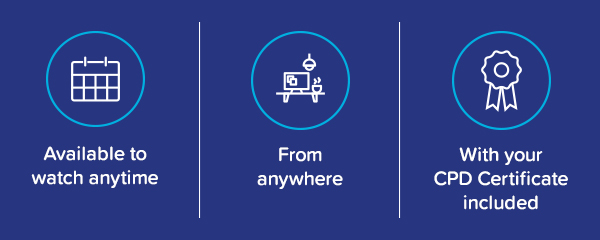 To find out how to purchase and watch your on-demand course follow the below tips. Or if you need some ideas for a course to try out, take a look at our short video below.
---
How to purchase and watch an on-demand course
Select the course you are interested in and add it to your basket. Please check out and pay and don't forget to use your 15% off discount code – ONDEMAND15.
Once you have checked out click 'Go to Develop dashboard' – if you would like to access your on-demand course now please select this button.
If you are looking to watch your on-demand course at a later date, you can access your recording by logging into your account on our online community by clicking here.
Scroll down to your Oryon Develop dashboard and click the tab for 'My on-demand courses'.
Select 'Watch' and the recording will open in a new browser.
Course slides can be downloaded from here too, if the speaker has given us their permission to share them. Please click on the 'Download Speaker's slides' button below the video.
Once you have watched the course please select the 'I have watched the course' button and click to confirm.
To receive your Certificate of Attendance click 'Leave feedback' fill out the form and then the 'Download Certificate' button will become clickable.
Once you have finished watching your course you can go back to the Develop dashboard and from here you will see you can watch the course again, download your certificate or leave feedback.
---
Need a suggestion for a course?
Take a look at Mr Hanny Anwar's extremely popular Spinal Oncology – When Back Pain Could be Spine Cancer course. To buy the course click here.