Webinar: Mental Health Support For The Practitioner & The Patient
Unprecedented times have caused any number of people worldwide to struggle with their mental health. With increased levels of stress, loneliness, anxiety and depression during times of crisis, as this pandemic has seen, psychological support is needed whether you are a practitioner or a patient. 
We've invited Laura Rosenthal, Mental Health First Aid Instructor for MHFA England, and Owner of MAPS-Training Ltd, to give this highly interactive talk. With practical tools and tips on how to deal with difficulties yourself, and communicate with patients, friends and family who are finding it hard to cope, you won't want to miss this webinar. Having trained as both a Mental Health First Aid Instructor and an Osteopath, Laura is extremely well-versed on the strains that mental health can have on both the patient and practitioner. She also teaches mental health first aid courses certified by MHFA England on how to spot the signs and symptoms of mental ill health and provide help on a first aid basis. This is pertinent, as some form of mental health first aid training is likely to become mandatory in the workplace in the future.
Assessing the size and costs of the mental health problem in the UK, Laura will be using her wealth of expertise to introduce the huge topic and discuss how we can start to make a change. We will be delving into what mental health is and the impact of COVID-19 on both the patient and the practitioner mentally. Examining the causes, types and qualities of key stress-related mental health issues, including depression and anxiety, we will learn how to spot the signs of such disorders. 
Communication skills are a vital part of being able to support your patients around this sensitive subject. We will be considering the best techniques to help them emotionally and practically and will be looking at the impact of mental health issues on the population both prior to and during COVID-19 from epidemiological surveys. We will also be looking at the lifestyle of a practitioner and understanding ways you can help yourself in your own mental health. Laura will be facilitating interactive group-learning with breakout tasks and providing us with useful take-home resources for all the topics covered and more!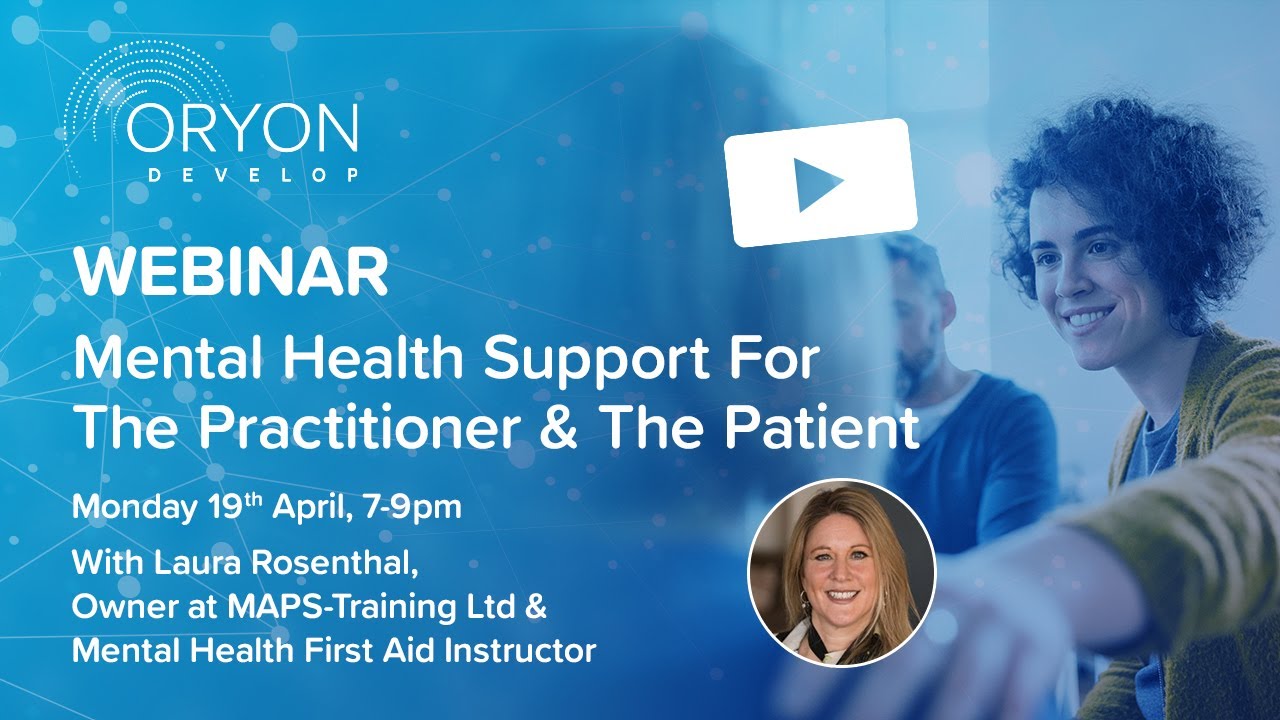 We will send you an email with instructions to register and gain access to the webinar 'room' 24 hours before, and a reminder 1 hour before the event.
Learning Outcomes:
Understand the effects of the COVID-19 pandemic on both the patient and the practitioner, and how to identify the key stress related mental health illnesses
Develop your communication skills by learning proven tips and techniques to help your patients, and by participating in interactive breakout tasks in collaboration with your AHP peers to gain best practice on supporting your own mental health
Size and costs of the mental health problem
What is mental health?
Impact of COVID 19 on mental health
Causes, types, and identification of key stress related mental health issues
How to help yourself and others - Emotionally and practically
Helpful resources
Owner MAPS-Training Ltd & Mental Health First Aid Instructor | London
Laura is an award-winning Training & Development Professional with over 23 years' experience as a training manager in the pharmaceutical industry. Her knowledge and training experience covers numerous mental health therapy areas including depression, anxiety, psychosis, schizophrenia, alcohol induced brain damage, and alcohol dependency. 
Laura is an accredited instructor member approved by Mental Health First Aid (MHFA) England to deliver their adult mental health first aid courses. She is passionate about removing the stigma of mental health and improving people's knowledge of how to help themselves or other individuals suffering with mental health issues. In this capacity she is also a crisis counsellor for the charity Shout.
Laura set up her own consultancy in 2015, and now concentrates on mental health and wellbeing training for any industry sector. Having trained and qualified as an osteopath herself in 1993, Laura has a sound medical knowledge as well as experience of treating patients directly. She is fully aware of how their mental health issues can help contribute to musculo-skeletal problems.
Laura is a certified NLP Practitioner, an ILM level 3 accredited coach, and an Insights trainer, and has many years of training delegates in communication skills and coaching skills. This combined with her knowledge and training experience plus her natural empathy leads to exceptional mental health first aid training. She delivers highly impactful and engaging training sessions around the sensitive subject of mental health.
Live 2-hour group learning webinar, speaker's slides (if permitted), CPD certificate, and recording of the course (even if you can't make it to the live event).
Chiropractors, Osteopaths, Physiotherapists, Podiatrists, Sports Therapists, Hand Therapists, Radiographers, Occupational Therapists, GP, Other Health Professionals, Trainee Health Professionals, Students