Webinar: Alzheimer's – Spotting The Early Signs & Supporting Your Patients
This event is available to purchase on-demand and was first delivered on Tuesday 16th February 2021.
Those suffering with Alzheimer's have had a particularly difficult time with the challenges and restrictions that Covid-19 brought in the past year. Not only are they likely to be in one of the most vulnerable age groups, but according to the Alzheimer's Society, they have been experiencing 'increased loneliness and an acute sense of fear'. However, spotting the signs early on can help us to better manage the condition, and there may be some promising new treatments on the horizon.
Learn how you can spot the first signs and symptoms in your patients, the necessary investigations to carry out and treatment options available, as well as managing patients who are currently in the later stages of the disease. Join Dr Emer MacSweeney, CEO, Medical Director and Consultant Neuroradiologist, at brain and mind clinic Re:Cognition Health for this fascinating webinar.
Starting with a general overview of Dementia, we will be exploring the key differences between Dementia and Alzheimer's disease, understanding who is more likely to get it and the risk factors involved. Symptoms are generally mild to start with, but begin to worsen and interfere with daily life as time goes on. To ensure you are able to spot the early signs, we will be discussing memory problems in the short- and long-term, as well as issues with speech, sight, orientation and concentration. 
Dr MacSweeney's wealth of experience in reading and interpreting scan images will also be invaluable in our discussion of investigations for early diagnosis. We will be looking at MRI and CT imaging to understand how to identify the condition, as well as other assessments, such as memory tests.
Although there is no cure for Alzeimer's disease, support, such as occupational therapy, lifestyle changes, and holistic treatments – including physical and mental exercises – can be very helpful. We will be delving into how you can help care for your patients and support them through management techniques and communication. Drug therapies are also available and we will examine the pros and cons of each treatment. Lastly, we will be exploring the future of Alzheimer's through modern treatments which have potential to be lifechanging.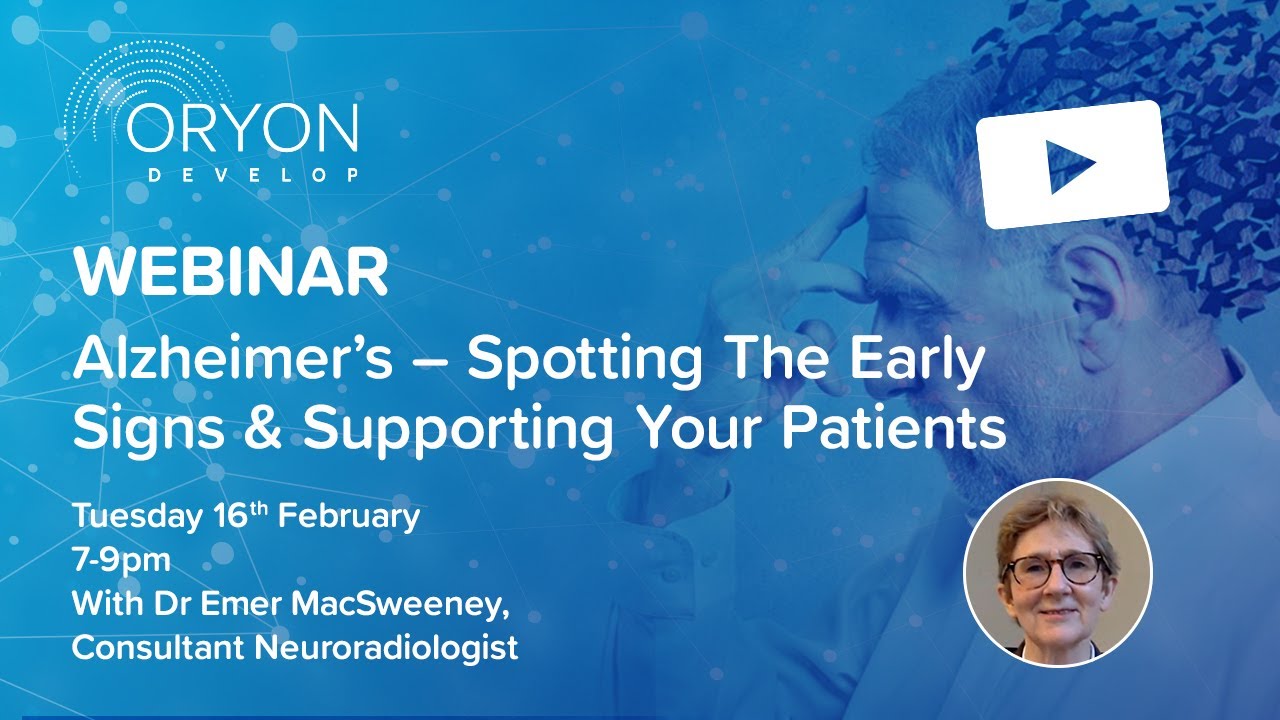 We will send you an email with instructions to register and gain access to the webinar 'room' 24 hours before, and a reminder 1 hour before the event.
Learning Outcomes:
Learn about the early signs and symptoms to look out for in your patients 
Enhance your knowledge on the investigations to request and understand the neuroradiology reporting involved
Be confident in communicating the range of treatment options to your patients – support, lifestyle changes, holistic and medical management techniques
Alzheimer's vs Dementia
Spotting the early signs & symptoms
Investigations for early diagnosis
Treatment options 
Holistic treatments & lifestyle changes
The future of Alzheimer's 
Consultant Neuroradiologist | London
Dr MacSweeney is an award-winning CEO, Medical Director and Consultant Neuroradiologist at brain and mind clinic Re:Cognition Health. She graduated at the University of London and underwent postgraduate training in medicine at the London postgraduate hospitals and spent time on a scholarship at Harvard University. Dr MacSweeney trained in radiology at Hammersmith Hospital and neuroradiology at the National Hospital Queen Square. She was appointed as a Consultant Neuroradiologist and later Director of Neuroradiology at Atkinson Morley's Hospital, St George's Healthcare Trust, specialising in interventional vascular neuroradiology.
Dr MacSweeney co-founded Re:Cognition Health in 2011 to provide a specialist service in the neurological assessment and imaging of cognitive impairment, neurovascular diseases and traumatic brain injury, including the provision medico-legal expert opinion. The expert team covers conditions ranging from autism and ADHD through to Alzheimer's disease and Traumatic Brain Injury using the latest research, evidence, techniques and treatment plans to achieve the very best patient outcomes.
The Re:Cognition Health Clinics in London, Birmingham, Essex, Surrey and Plymouth and Washington DC are also major centres for international clinical trials of disease-modifying and new symptomatic drugs for Alzheimer's disease and other neurological conditions. 
Re:Cognition Health's expertise has been recognised with numerous prestigious accolades including EY Entrepreneur of the Year Winner- Societal Impact 2019 (London and South England) Growing Business Awards- Positive Impact Winner 2019, CEO Today Magazine - Healthcare Awards Winner 2019, Great British Entrepreneur Awards Runner Up 2019. 
Live 2-hour group learning webinar, speaker's slides (if permitted), CPD certificate, and recording of the course (even if you can't make it to the live event).
Chiropractors, Osteopaths, Physiotherapists, Podiatrists, Sports Therapists, Hand Therapists, Radiographers, Occupational Therapists, GP, Other Health Professionals, Trainee Health Professionals, Students