Webinar: Hamstring Injuries – Rehabilitation & Prevention to Return to The Pitch
This event is available to purchase on-demand and was first delivered on Monday 18 January 2021.
From Fernando Torres to Michael Owen, hamstring injuries have often been witnessed on the football pitch, but they don't have to be the end of the player's career. In Torres' book, 'El Nino, My Story', he summed up his journey with the injury: "The first time it happens you think it is normal and you keep going. The second time, you stop, you take more care and you start to ask yourself why it happened. The third time, you stop properly, you start to investigate the underlying causes and work as hard as you can to make sure it never happens again." By ignoring the injury, Torres lengthened his recovery and recuperation period, but with the help of his rehab team, he was able to continue playing. 
Dr Philip Batty, Consultant in Sports and Exercise Medicine, will be discussing the latest in rehabilitating hamstring injuries to ensure that your patients benefit from the best possible treatment.
 He will be examining the epidemiology and classification of hamstring injuries, by comparing case studies from both elite sport and the general population. We will look at the heightened stresses and strains that elite sportspeople are under, such as making a speedy dash to outwit their opponents. This can result in one or more of the biceps femoris, semitendinosus and semimembranosus muscles being torn or snapped completely. Using scan images, we will be exploring what to look out for and how to diagnose these injuries accurately.
Dr Batty will be discussing the evidence-base for the debate surrounding PRP treatments, and, in extreme cases such as complete avulsion, surgical approaches. We will be delving into the phased rehabilitation process required to guide an individual from acute injury to return to play and will be discussing the use of pool sessions, to gym based strength and conditioning into pitch based sports specific drills. He will also be giving us the sports medicine perspective on prevention strategies and importance of incorporating certain approaches in pre-season and in-season training to reduce the risk of hamstring injury whilst getting involved with the debate on Nordic hamstring exercises.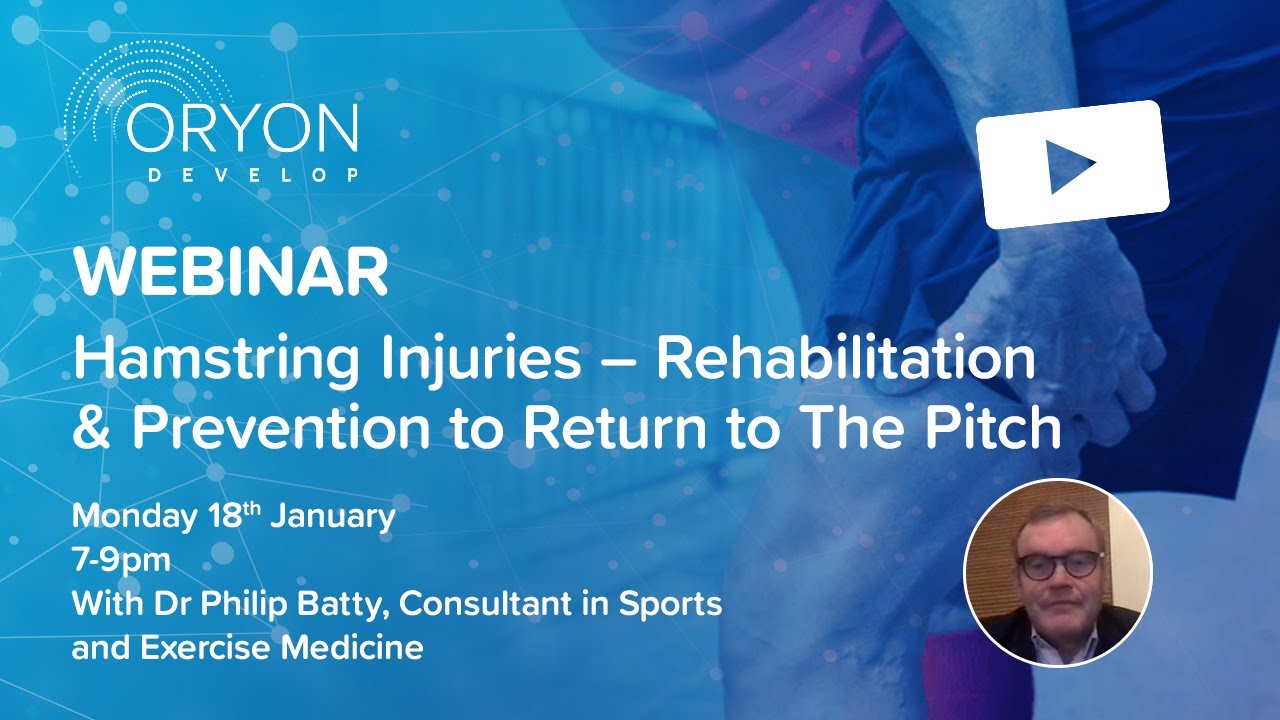 Learning Outcomes:
Gain confidence in understanding the pathology of hamstring injuries in order to make an accurate diagnosis
In-depth knowledge on best practise rehabilitation methods for conservative and non-conservative treatments
Understand how to advise your patients on prevention techniques such as Nordic hamstring exercises
Epidemiology & classification of hamstring injuries – Elite vs. general population 
How to identify & diagnose them
Treatment options – PRP, surgical & non-surgical approaches
Prevention strategies
Consultant In Sports & Exercise Medicine | London
Dr Philip Batty has been involved in elite sports medicine for over 25 years. He worked as the deputy club doctor at Manchester United between 1996 and 1999 combined this role with positions at the English Institute of Sport and Sedbergh School caring for a range of athletes, both professional and recreational, of all ages and ability
He became head of Sports Medicine at Manchester City Football Club in 2011-2012, the first year they won the Premier League. He followed this as Senior Team Doctor for the England Rugby Team from 2012-2014. He is the Team Doctor for Middlesex County Cricket Club and Consultant to the English National Ballet.  
He was formerly Medical Director of the Isokinetic Orthopaedic and Sports Medicine clinic in London.
Dr Batty has been heavily involved in training Sports and Exercise Medicine doctors as Training Programme Director, and standard setting as a former Vice President of the Faculty of Sport and Exercise Medicine. He is currently the Educational and Clinical Lead for the Independent Doctors Federation.
He feels passionately about the use of exercise as a therapeutic intervention for many medical and orthopaedic conditions and encourages patients to keep physically active through sport, dance, gardening or whatever is important to each individual.
Live 2-hour group learning webinar, speaker's slides (if permitted), CPD certificate, recording of the course.
Chiropractors, Osteopaths, Physiotherapists, Podiatrists, Sports Therapists, Hand Therapists, Radiographers, Occupational Therapists, GP, Other Health Professionals, Trainee Health Professionals, Students