Webinar: Carotid Artery Disease & Strokes – Managing the Risks & Effects
More than 100,000 people per year have strokes in the UK alone. About a quarter of these are caused by carotid artery disease, whereby one or both carotid arteries become narrowed because of a build-up of fatty deposits (plaque). If left untreated, it can result in a stroke or Transient Ischaemic Attack (TIA) (sometimes referred to as a 'mini-stroke').
This comprehensive interactive webinar with Consultant Vascular and Endovascular Surgeon, Mr Constantinos Kyriakides, will be examining the root causes of the condition, diagnosis (whether it is symptomatic or asymptomatic), and the treatment options available. 
We will be exploring the aetiology and processes of carotid artery disease, from blood clots forming and pieces breaking off into the brain, to possible TIA and/or stroke. Often the condition can go unnoticed until it is serious enough to deprive your brain of blood, and produces symptoms such as sudden, severe headache, dizziness, weakness and problems with speech or vision. Mr Kyriakides will be helping us to identify these signs and tests which help to diagnose the condition, including what to do if your patient has no symptoms. He will also be refreshing our memory on acting 'FAST' in an emergency. 
Managing and reducing your patients' risk of carotid artery disease, TIA and stroke can be achieved through various lifestyle changes. Mild blockages of the carotid artery can also be treated through conservative management, such as quitting smoking, losing weight, eating healthy foods, reducing salt intake, exercising regularly and blood-thinning medications. On the other hand, more severe instances require surgery, such as a carotid endarterectomy, carotid angioplasty or stenting. We will be establishing which method is appropriate for which patient, and the chances of recovery in each case.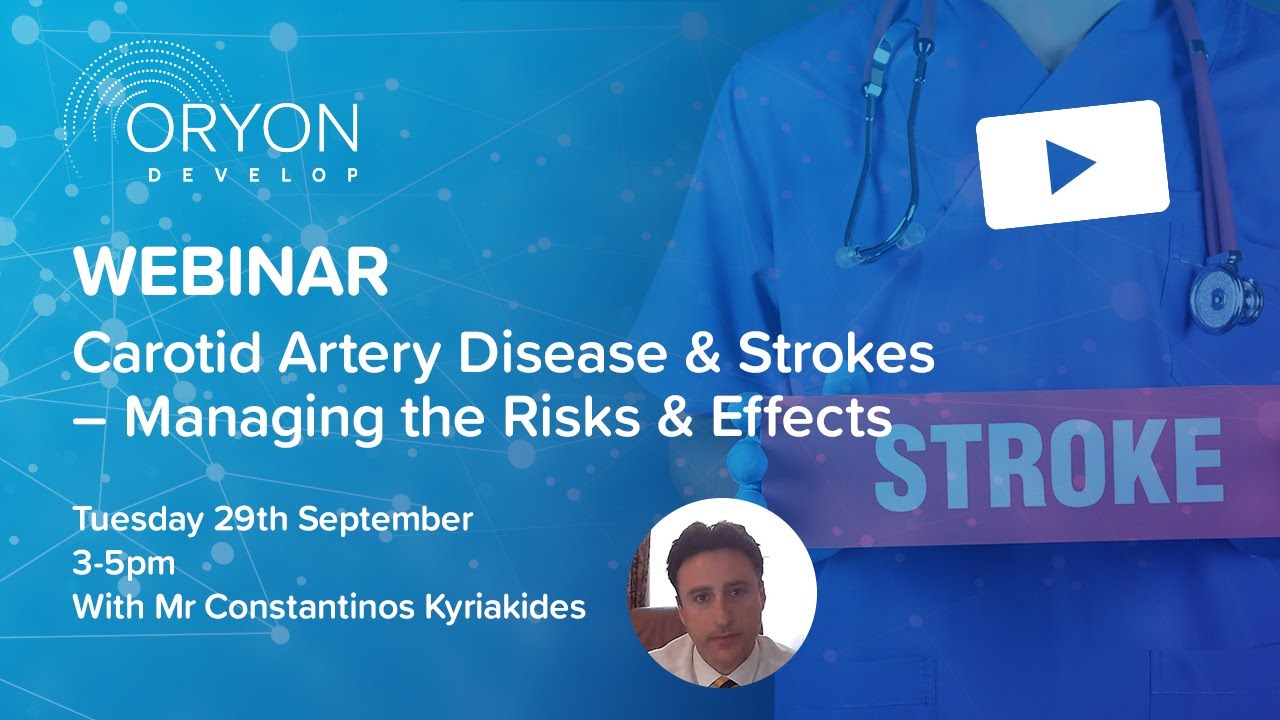 We will send you an email with instructions to register and gain access to the webinar 'room' 24 hours before, and a reminder 1 hour before the event.
Learning Outcomes:
Refresh your memory on the biological aetiology of carotid artery disease and its effects – TIA and stroke
Understand how to assess and diagnose the condition, whether the patient is symptomatic or asymptomatic
Enhance your knowledge on holistic lifestyle interventions and surgical options for reducing the risk of TIA and stroke and treating stroke victims
What is carotid artery disease and its possible effects?
How does carotid artery disease cause a stroke or TIA?
How to identify and diagnose symptomatic & asymptomatic patients
Managing and reducing the risks
How are stroke and TIA treated?
What are the chances of recovery?
Consultant Vascular And Endovascular Surgeon | London
Mr Constantinos (Costas) Kyriakides is a Fellow of The Royal College of Surgeons of England and The Royal College of Surgeons of Edinburgh. He is also a Member of The Vascular Society of Great Britain and Ireland, The European Society of Vascular Surgery and The Association of Surgeons of Great Britain and Ireland.
He trained at Manchester Medical School from where he qualified in 1991. He received his post-graduate training at Manchester, Brigham and Women's Hospital and Harvard Medical School and St Mary's Hospital London. Since 2003 he has worked as Consultant Surgeon at St Bartholomew's and The Royal London Hospitals where he maintains a very busy clinical practice.
He has a particular interest in the use of new technologies for minimally invasive, endovascular, laser and minimal access vascular surgery for conditions that affect the circulation including varicose vein disease, carotid disease and stroke, aortic (abdominal and thoracic) aneurysms & dissections, diabetic and peripheral vascular disease, axillary and palmar hyperhydrosis, arteriovenous malformations, thoracic outlet syndrome, vasculitis and Raynaud's disease.
Secretary: Patricia Campbell
Tel: 020 3219 3217
Email: patcampbell@vascularpractice.org
Address:
145 Harley Street
London
W1G 6BJ
Websites:
Live 2-hour group learning webinar, speaker's slides (if permitted), CPD certificate, recording of the course.
Chiropractors, Osteopaths, Physiotherapists, Podiatrists, Sports Therapists, Hand Therapists, Radiographers, Occupational Therapists, GP, Other Health Professionals, Trainee Health Professionals, Students