Webinar: Coccydynia & Anterior Knee Pain - Aetiology and Management
If you want to get a kick out of your CPD, join us on this this evening course combining the uncommon condition coccydynia and anterior knee pain. Mr John Hardy, Consultant Orthopaedic and Trauma Surgeon, will join us online to talk about the aetiologies of these conditions, how you can help your patients manage them and when to refer.
Coccydynia is an unusual condition which accounts for less than 5% of all presentations to hospital for lower back pain and is more common in women and obese patients. Mr Hardy will discuss the red flags when patients present with symptoms such as pain and tenderness in the area just above the buttocks, and how to conservatively manage the pain with exercises and other techniques. If all other treatments have failed, surgery may be the only solution and he will be advising when this is required. We will also be reviewing the theoretical and methodological findings about the condition.
We will also be examining the various pathologies of anterior knee pain. Whether it's runner's knee or patella maltracking, there can be many causes for anterior knee pain due to plica impingement. Repetitive strain on runners, jumpers, skiers, cyclists or football players often may cause this problem, but it can be easily treated by healthcare practitioners when caught early. We will be detailing evidenced-based interventions and literature to help you care for your patients before surgery becomes necessary. However, Mr Hardy will also explore when a referral is essential, having performed hundreds of treatments to cure this condition.
Watch Mr Hardy introduce the talk: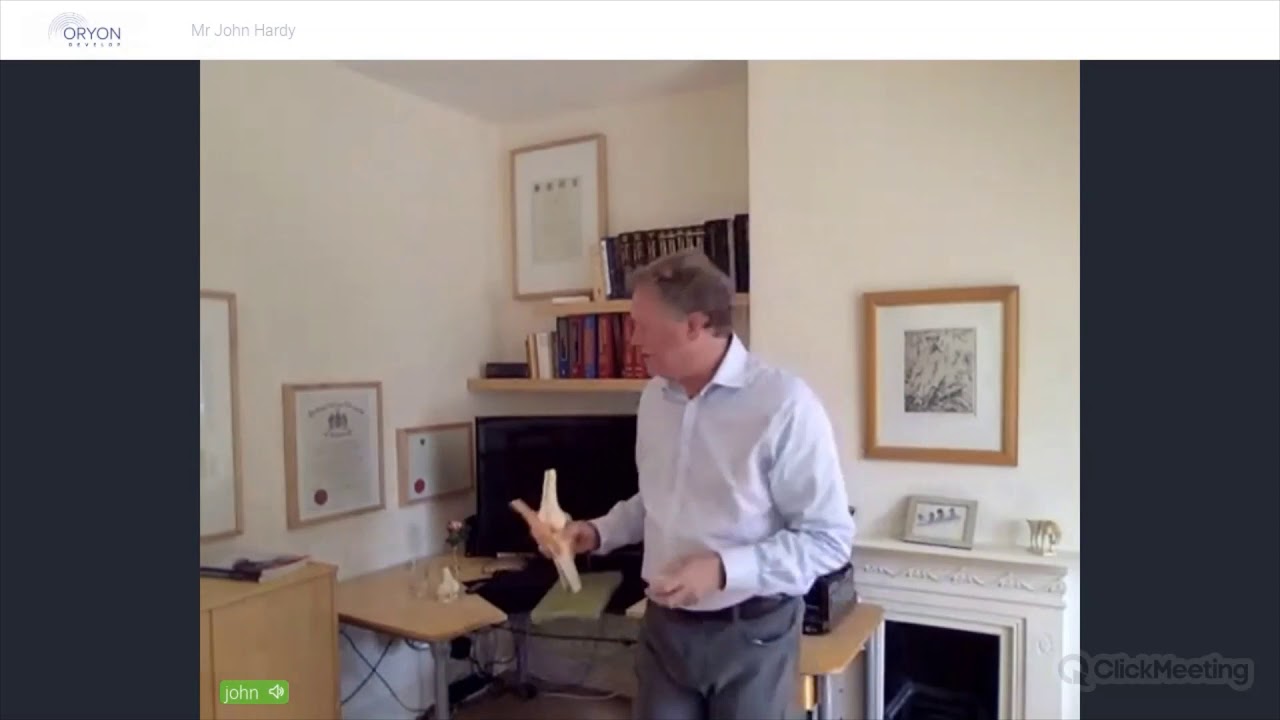 We will send you an email with instructions to register and gain access to the webinar 'room' on the day of the event.
Learning outcomes:
The causes and effects of coccydynia and anterior knee pain
How to diagnose the conditions
Ways to manage and treat them
Recognising red flags - when to refer
Theoretical and methodological findings 
Part 1: Coccydynia - How to Assess & When to Refer
The pathology of coccydynia 
The management of coccydynia – diagnosis and treatment
Literature review for evidenced based medicine
Part 2: Anterior Knee Pain - How to Assess & When to Refer
The pathology of anterior knee pain
The management of anterior knee pain due to plica impingement – Diagnosis and treatment
Literature review for evidenced based medicine
Consultant Orthopaedic Surgeon | Bristol
Mr Hardy has 34 years of experience as a doctor and surgeon. John is in particular an Orthopaedic and Trauma Surgeon interested in the management of knee injury to prevent arthritis, with a speciality training in the cure of coccydynia of the coccyx and the management of gout.

John is young enough to appreciate and take on the new developments that benefit his patients and old enough to have enjoyed the experience of a classical training and career in the NHS in London, Leicester and Bristol at the world renowned AOC.

Mr Hardy consults at the Chelsea Outpatient Centre in the Kings Road, London, the Lister Hospital, London the BUPA Cromwell Hospital, London and at the Sport and Orthopaedic Clinic in Bristol.

Many of his patients say how they appreciate the time and careful assessment he gives them.
Access to the webinar (via email), a 2 hour interactive talk, speakers' slides (if permitted), a live recording of the talk and a Certificate of Attendance.
Chiropractors, Osteopaths, Physiotherapists, Podiatrists, Sports Therapists, Radiographers, Occupational Therapists, GP, Other Health Professionals, Trainee Health Professionals, Students