Webinar: Pitfalls in The Cervical Spine & How to Avoid Them
This event is available to purchase on-demand and was first delivered on Monday 8 June 2020.
Pains in the neck and scapular area have always been commonplace. However, since the outbreak of Covid-19, there has been an increase in the number of complaints due to video conferencing, uncomfortable home-working stations and even home gym injuries.
In this webinar our renowned speaker and Consultant Spinal Surgeon, Mr Bob Chatterjee, embarks on a 'tour de force' of neck problems. He takes us through the aetiology and identification of common conditions as well as those which are harder to spot. For instance, Cervical Spondylosis may be asymptomatic for many but when symptoms do occur, they typically include pain and stiffness in the neck. If not caught early on, this could lead to tingling, numbness and weakness in the limbs, lack of coordination, difficulty walking and even loss of bladder or bowel control. We also discuss Cervical Myelopathy, characterized by clumsiness in hands and gait imbalance, and Cervical Stenosis, or narrowing of the spinal canal. Lastly, we delve into the root causes of Cervical Radicular pain, which can result in neurological deficits such as numbness, weakness or altered reflexes anywhere from the neck to the fingertips. 
If your patients present with any of these symptoms, we cover how to spot the red flags and tell-tale signs to make an accurate diagnosis from physical examination. We also look at the frequently missed diagnoses from more serious conditions hidden amongst the common ones and how to identify where you could go wrong.
Lastly, Mr Chatterjee discusses both the surgical and conservative treatment options for your patients, including epidural steroid injections, exercises, joint manipulation and more.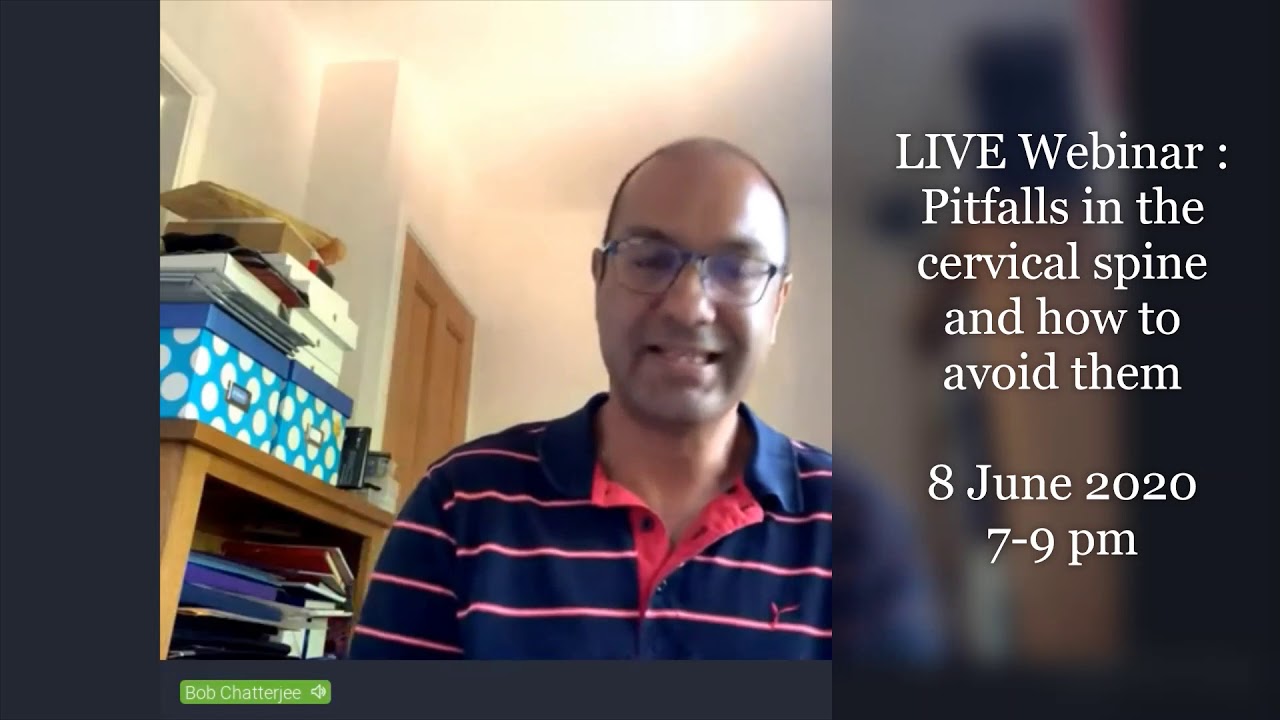 Learning Outcomes:
Identify common and uncommon Cervical spine conditions & their differences
Spot the signs and red flags of the conditions often missed in order to make an accurate diagnosis
Understand the range of surgical & non-surgical treatment options available
Cervical Spondylosis, Cervical Myelopathy, Cervical Stenosis & Cervical Radicular pain
How to make the diagnosis
Frequently missed diagnoses 
Physical examination and tell-tale signs to look out for
Treatment options - both non-surgical and surgical
Consultant Orthopaedic Surgeon | London
Mr Chatterjee graduated from Guy's & St Thomas's Hospital, London, initially training in spinal surgery at Oxford. He was awarded a Culyer Foundation research grant at the Royal National Orthopaedic Hospital, Stanmore where his research into bone regeneration gained a distinction.
He was awarded a joint Neurosurgical and Orthopaedic Spinal Fellowship from the Royal College of Surgeons of England. He was appointed as a Consultant Spinal Surgeon in 2011 with an exclusively spinal practice undertaking all forms of adult spinal surgery. Among many achievements, he is a spinal advisor to the National Health Service, is a consultant editor of several spinal periodicals and reviews spinal papers for the JBJS amongst other journals. He is a tutor for minimally invasive spinal surgery and has a particular passion for training junior spinal surgeons. He is President of Orthopaedics at the Royal Society of Medicine and is both a member of the British Association of Spinal Surgeons, where he resides on the education committee, and the North American Spine Society. He has been featured in several national newspaper articles for his expertise in spinal surgery.
Mr Chatterjee is Chief of Spinal Surgery at The Hospital of St John's & St Elizabeth's and Spinal Development Lead at The London Clinic. He is also Clinical Director of Harley Street Spine.
Access to the webinar (via email), a 2 hour interactive talk, speakers' slides, a live recording of the talk and a Certificate of Attendance.
Chiropractors, Osteopaths, Physiotherapists, Podiatrists, Sports Therapists, Hand Therapists, Radiographers, Occupational Therapists, GP, Other Health Professionals, Trainee Health Professionals, Students