Webinar: Treating Diabetes Mellitus with Lifestyle Medicine
There is little doubt that conditions such as Diabetes Type 2, Hypertension, Cardiac problems, Eczema, Asthma, Alzheimer's disease, and indeed a lot of cancers, are related to lifestyle of the patient. Until now, these were often blamed largely on 'bad genes' or the unavoidable result of ageing.  
This unique, interactive webinar, will be combining Consultant Orthopaedic Spinal Surgeon, Mr Rajiv Bajekal's own experience in having Diabetes, with his expertise as a Lifestyle Medicine Practitioner. He recently received a Diploma from the International Board of Lifestyle Medicine, after reversing his own Diabetes and finding a new zest for helping patients live a healthier life.
In the UK, around 90% of all adults with diabetes have type 2, according to the NHS. We will be understanding Diabetes Mellitus as a condition, focusing on type 2, but touching on the other forms as well. We will be delving into diagnostic criteria, how to recognise it clinically and from laboratory parameters, so that you can identify it in your own patients. 
Using a historical review of the literature, the biochemistry and etiopathogenesis of diabetes, we will discuss the evidence base for treating it holistically with lifestyle medicine, reversing it where possible. While the ill-effects of smoking, overuse of alcohol, stress and lack of sleep are more clearly accepted by patients, they are often sensitive about their nutrition and most believe they have a 'healthy diet' based on what they have read. We will be looking at what constitutes a 'healthy diet', how diabetes type 2 can be cured by following one, as well as exercise and other factors which can help.
Lifestyle medicine is a relatively new approach to the management of chronic diseases. However, it is foundational, runs in parallel with conventional and other forms of medicine, and is a strongly evidence-based approach.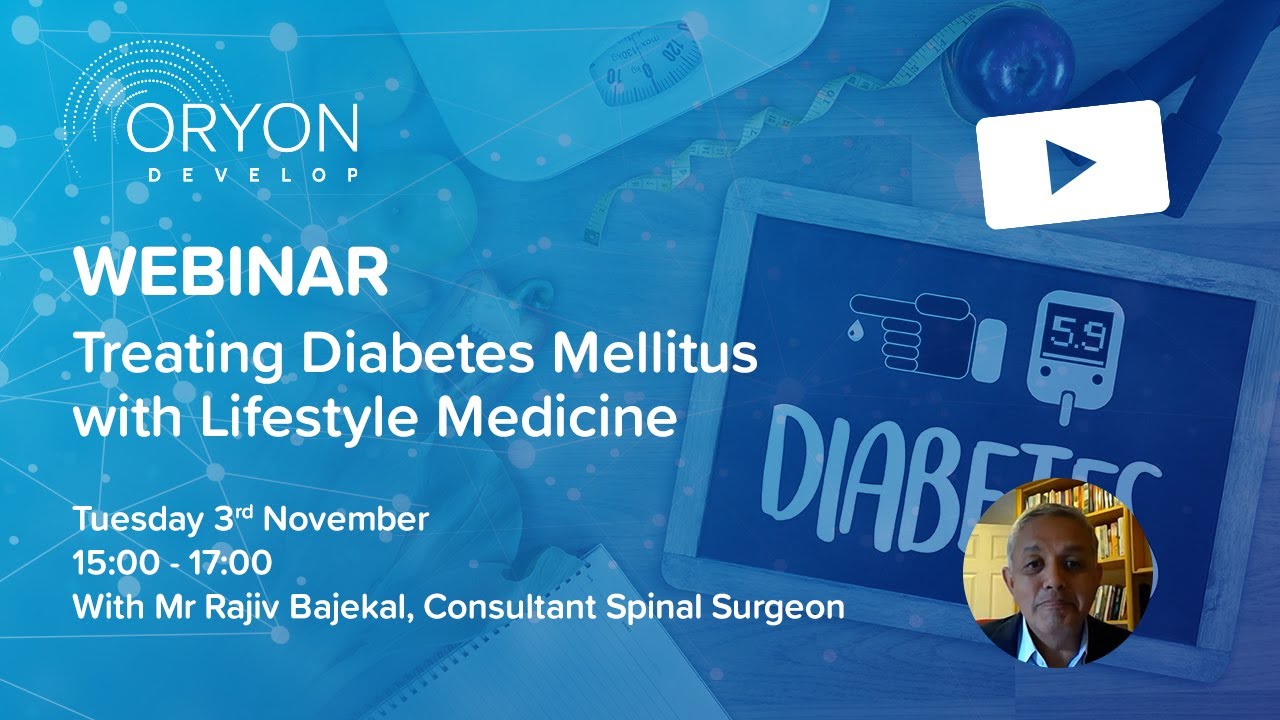 We will send you an email with instructions to register and gain access to the webinar 'room' 24 hours before, and a reminder 1 hour before the event.
Learning Outcomes:
Understand Diabetes and the myths surrounding it
Be able to advise a patient safely
Enhance your knowledge of different dietary patterns and how they affect diabetes
Know where to refer patients onto good online resources, dietitians and nutritionists
Biochemistry & etiopathogenesis of diabetes – type 2 & other types
Diagnostic Criteria, recognising it clinically & from laboratory parameters
Historical literature review & evidence base
Treatment using lifestyle medicine changes & techniques
Consultant Orthopaedic Spinal Surgeon | London
Mr Rajiv Bajekal is an experienced Orthopaedic Surgeon with an interest in spinal surgery and lifestyle medicine. He works with a group of like minded Orthopaedic Surgeons called Total Orthopaedics London who practice high quality Orthopaedics holistically and with the whole patient in mind. 
He was appointed Consultant Orthopaedic Surgeon in 1998 and has been working in London at the Royal Free London NHS foundation Trust since 2002. He has published widely and lectures Nationally and Internationally besides being a Senior examiner for the FRCS Orthopaedics. He is an active member of the Plant Based Health Professionals, UK and Total Orthopaedics London.
In 2016 he had some personal health problems and had put on a lot of weight with time in the UK. He and his wife researched diet and nutrition and he embarked on a way of living a healthier life with compassion and care for the environment. In the process, he lost 25 kg of weight, reversed his diabetes and found a new zest for helping patients live a healthier life.
He decided to study Lifestyle Medicine as a lot of the disorders affecting people nowadays are lifestyle related and he and his wife (Consultant Gynaecologist) both studied and passed the Diploma examination in Lifestyle Medicine conducted by the American board of lifestyle medicine. He and his wife Nitu are now certified lifestyle medicine practitioners with a Diploma from the International Board of Lifestyle Medicine - by far his proudest achievement.
Chronic health conditions cannot be managed purely by medication. Real change though must come from the patient. A lifestyle medicine practitioner is trained to give guidance, motivate, monitor change and assist the patient in a quest for better health. He and his wife now practice medicine hoslistically - looking at the causes and prevention of chronic illness while at the same time treating problems in their areas of specialism. They lecture on lifestyle medicine and prevention of long term ill health. Mr Bajekal has also written the module on Bone Health for the first UK plant based online nutrition course conducted by the University of Winchester.
Live 2-hour group learning webinar, speaker's slides (if permitted), CPD certificate, and recording of the course (even if you can't make it to the live event).
Chiropractors, Osteopaths, Physiotherapists, Podiatrists, Sports Therapists, Hand Therapists, Radiographers, Occupational Therapists, GP, Other Health Professionals, Trainee Health Professionals, Students