The national average cost for a privately funded chest X-ray is £101, according to Private Healthcare UK. At Oryon Imaging, a single view X-ray costs just £55; just over half the national average.
Why go private?
We pride ourselves on providing affordable private healthcare that is accessible and efficient. Our X-ray patients are often people who are looking to take the first step towards a diagnosis, but don't want to wait for an NHS appointment, which unfortunately can take a while for non-urgent scans.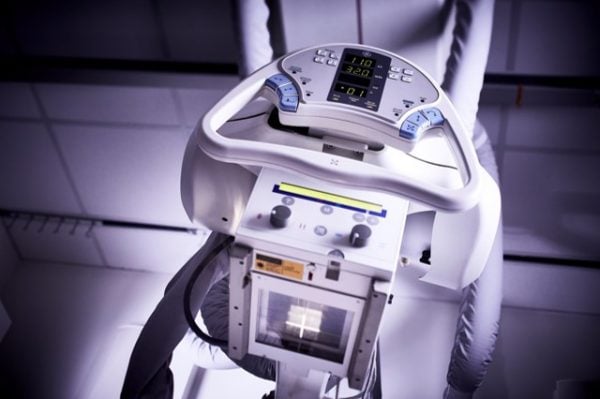 What do I get from the appointment?
At a cost of just £55, our patients get a quick, efficient scan at our clinic in London's renowned Harley Street medical district, as well as a copy of their scan images on a CD and on their online account.
We also remain affordable for multiple view X-rays; for example, an X-ray of the elbow costs just £110 (since it requires two views, so £55 + £55).
Can I find the cost of an X-ray at Oryon Imaging online?
We have a handy Live prices widget, where you can get a good idea of availability and pricing for your X-ray. You can see when we have free slots, as well as how much your scan should cost. Find a slot you like and call or email us to book!
What does a 'view' mean?
A single view X-ray means we only need to take an X-ray from one view. For example, a standard chest X-ray requires just one X-ray camera positioning. If we need to reposition the X-ray camera and take more images, this adds to the price.
How do I book an X-ray appointment?
You'll need to be referred to us to have an X-ray. A referral can come from any clinician with the relevant qualifications, including an (IR(ME)R) certificate.
You can send your referral to imaging@oryon.co.uk and we'll be in touch as soon as possible (normally within one working day) to get you booked in.
If you don't have a referral, we can also help with that! Just head over to Oryon Connect, where we can help to introduce you to a trusted practitioner who can refer you for the X-ray if necessary.
We are pleased to have a strong team of radiographers at Oryon, especially as we have seen an increase in demand for X-ray appointments in the last few weeks as more and more elective diagnostic imaging resumes. If you have any questions for us about your X-ray referral or an X-ray query, please contact us at imaging@oryon.co.uk.